One of the great perks when you work for The Ripple Club, is that you get to know a lot about pools! First because we have been scouting our beautiful island for the best locations to hold our classes and also because we love being in the water with the added benefit of overlooking at an amazing view.
Of course, everyone has different taste so we decided to go with a mix of modern and older "resort" style pools you should check out in Singapore, we also have a hidden gem for you!
1. MARINA BAY SANDS
Ok that's the obvious one. I could not write an article about the most beautiful hotel pools in Singapore without stating MBS, so let's get that out the way!
Even if you have to get a room in the hotel to access this world-famous pool, the view of the marina on a clear day (and night) is so worth it!
As we are not the only ones who have heard of this place, the pool can get quite crowded (to say the least!) but it's still really impressive!
If you want to check out this pool you will have to get yourself a room–around 500$- ouch!
Marina Bay Sands, 10 Bayfront Ave, Singapore 018956
2. SWISSOTEL MERCHANT COURT
For those looking for a resort style pool RIGHT IN THE CITY, Swissotel Merchant Court is the pool to go for. Conveniently located right next to Clark Quay MRT this is a quiet heaven in the craziness of the Clark Quay district, with its waterfalls and stones, it's a like an escape!
Bonus: there is a slide, and don't we all love slides? You can check out this pool while joining us for a Ride – get more info here!
Swissotel Merchant Court, 20 Merchant Rd, Singapore 058281
3.ONE FARRER HOTEL
I'm pretty sure no one knows about this one. Located right on top of Little India MRT this hidden gem has a modern yet relaxed atmosphere. If you are an avid swimmer you will be happy to hear this is one of the few Olympic size pools available in a hotel in Singapore! The deck is big enough so you are not walking on someone else's stuff and you get a beautiful sunset on a clear day. It's definitely worth a visit if you live in the area! Good news is they offer a 1 Day Facility Usage which includes the gym and swimming pool for $50 nett per person. Have fun!
One Farrer hotel: 1 Farrer Park Station Rd, Singapore 217562
4.FAIRMONT SINGAPORE
If you are looking to take a dip right in the CBD, Fairmont Singapore is your pick! Conveniently located on top of Raffles MRT, this hotel has 2 gorgeous pool with amazing cabanas to watch the sunset from with a nice cocktail in hand. The view is fantastic, the staff is always friendly and you can enjoy an amazing treatment at the Willow Spa while you are at it!
You can check out this pool while joining us for a Ride – get more info here!
Fairmont Singapore, 80 Bras Basah Rd, Singapore 189560
5. THE WAREHOUSE HOTEL
This pool is not particularly big nor beautiful but it is SO cool with its see through walls! Every time I see this pool I want to put an aquabike in it! You can also get a few good underwater shots without getting your phone wet (even though our phones are mostly waterproof now I am still scared to take underwater shots with mine!)
Bonus point: You get an amazing view on Singapore river by night and the rooms are stylish and big. You will need to stay as a guest to enjoy this very special pool. Price is around $300 a night.
The Warehouse hotel 320 Havelock Road Robertson Quay, 169628 Singapore
6.PARKROYAL ON PICKERING
First things first, we all love that building. It always makes me so happy looking at it while I am in town. Finally someone thought about putting green walls in our garden city! With a big focus on outdoor skygardens and water features it is such a unique building to visit. If you've never seen the pool before you have to go, it is really stylish and different even if it is slightly small, I have to admit. The extravagant cabanas give it a different atmosphere and it is just so nice to find a beautiful pool right next to the MRT. You can enjoy the facilities by picking up a room at this beautiful hotel. Price is around $400 a night.
ParkRoyal on pickering, 3 Upper Pickering Street, 058289  Singapore
7. CAPELLA SENTOSA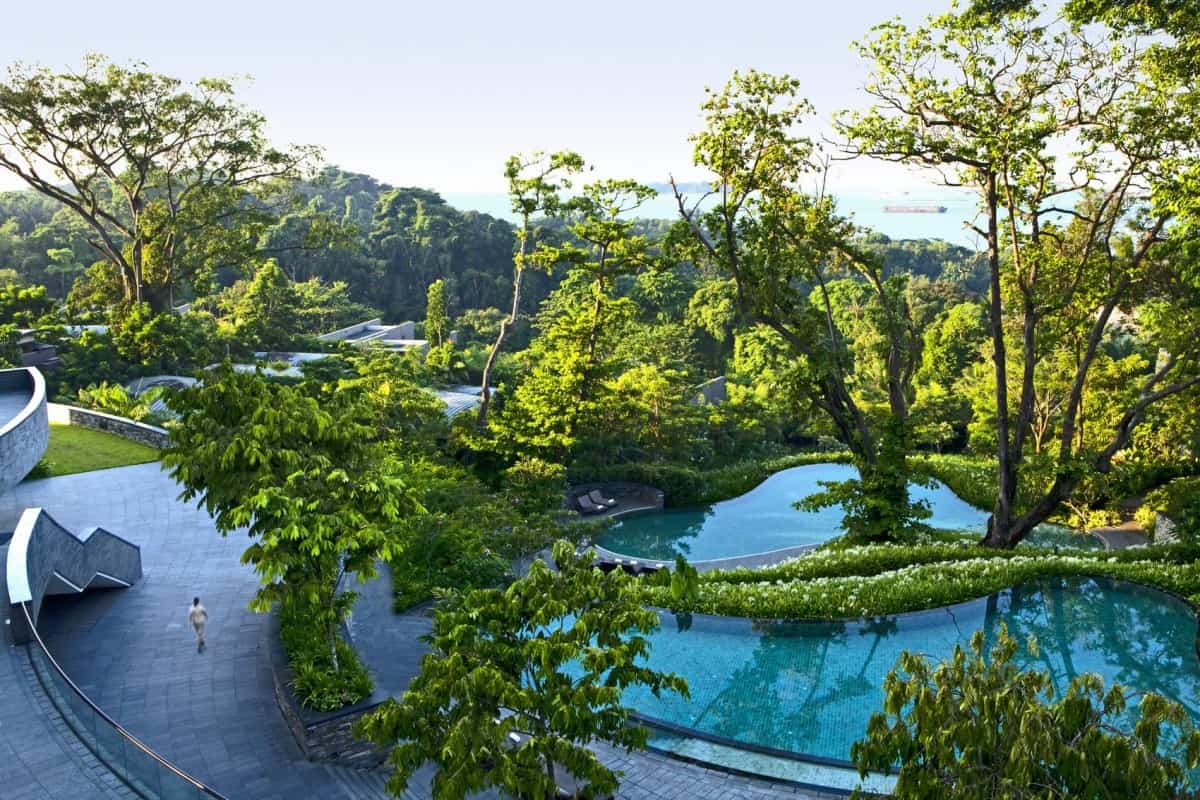 You want to feel like you are on a holiday without having to take a plane? Capella Sentosa is our pick! Taking a dip at the Capella pool would definitely make you feel like you are somewhere in Thailand or Bali with a beautiful view on the sea and lots of greenery around! This is exactly the treat you were looking for your next staycation! Of course, such a beauty comes with a price, around 600$ a night but it might be worthwhile for a special occasion. Did I hear that your wedding anniversary was coming soon?
Capella Singapore, 1 The Knolls, 098297 Singapore
8. CONRAD CENTENNIAL
If you work near Suntec City, this is the place you should go for an evening dip! It is so close to the MRT it has to be convenient, the pool area is vast and the view is amazing at night! The 20m pool is quiet in the evening and you can even relax in the big cabanas next to the pool with a glass in hand.
They just renovated the changing rooms and they will make your shower time feel like you are at the classiest spa!
Are you keen to take a dip? Good news we will be resuming classes at this location soon. Contact us for more info!
Conrad Centennial: 2 Temasek Blvd, Singapore 038982
9. MANDARIN ORIENTAL MARINA BAY
I just love the fountains and the cabanas…it is just so tranquil while being right in the city! Order a fresh coconut while lying down in one of the cabanas overlooking Singapore skyline is so worth it!! It can get a bit overcrowded during the weekends but this pool is definitely worth checking it out!
Mandarin Oriental Marina Bay: 5 Raffles Ave, Singapore 039797
10. HOTEL JEN ORCHARD GATEWAY
Last but not least, our hidden GEM!
I did not know about this pool until we started our classes at Hotel Jen, and that's a shame!
The pool is massive with comfortable and stylish sun beds and beanbags, water is always warm and the view…the view is to die for! Located right on top of Somerset MRT you have an obstructed view of the city AND Marina Bay Sands! Best time to enjoy the view is at sunrise, it is still cool and we get to see all the sun's colours reflecting on the water. A must see! You can buy a drink at their rooftop bar and enjoy the beauty of the city or even better, you can check out this pool while joining us for a ride – get more info here!
Hotel Jen OrchardGateway, 277 Orchard Road, Singapore 238858
There are probably an other 10 beautiful pools you like that I haven't talked about. I have to admit it was really hard to pick and choose the best ones!!
Any hidden hotel pool we should check out? Feel free to comment on this post!
Alicia xx